Burger, Fries and Shake
Elena Duggan
1 GRAZE Grass fed burger patties ($8 for 4)
2 med Truss tomatoes, sliced in 5mm discs ($8/kg – 1 for $1.25)
2 med Beetroot ($5/kg – $0.85c each)
1 Ploughmans Cheddar, 5mm sliced ($20/kg – $5 each)
1 Bread and butter cucumbers ($4.86/kg – $3.40 jar)
2 lge Red onions, sliced in 5mm discs ($0.70 each)
GF SF Tomato Sauce $2.69 bottle, additional for chips
1 Iceberg lettuce, shredded, reserve leaves for any gluten free diners ($3.50 each)
1packet Hamburger buns, GF if possible cut into halves ($2 for 6), or lettuce cups from above
Chips
1kg Royal Blue Potatoes, cut into chunky chips ($3.50)
2L Vegetable Oil ($8.00)
Salt, to taste
Milkshake
1.5L Milk ($2.50/litre)
2 Bananas, peeled ($4.90/kg – $0.88 each)
100g Peanut butter $5.00/jar
50g Chocolate, SF GF ($4/block)
50g Honey ($10/kg)
Notes:
Serve 1 burger + shake + fries in the city = 1 for $29.50 OR serve a family of 4 for at home = $27.50
* Prices accurate & averages from major supermarkets at time of recipe creation
** When utilising previously created condiments, recipe even more budget friendly
Caramelise onions in a fry pan over medium heat with a small amount of EVOO. Set aside once cooked.
Place burger patties into fry pan, using a spatula, flatten down to approx. 7-10mm thickness. Cook until medium rare or desired internal temp.
Whilst burgers are cooking, toast interior of burger buns under your grill.
Layer bottom burger bun with relish, cheese, pattie, sauce, pickle, tomato, lettuce then close with bun top and serve.
Chips:
Boil chips until cooked through but not yet collapsing. Remove from water, rough up edges in colander, allow steam to fully escape before placing in freezer on a tray in a single layer, for at least 30minutes.
Heat oil in a deep fryer or deep fry pan to 160° Celsius. Fry chips in batches to seal outside but before they start to go to golden. Drain well and allow cooling. Return to freezer for at least 30 minutes.
Increase oil temperature to 190° Celsius. Fry chips until crisp and golden. Season to taste and serve immediately. Serve with additional
Milkshake:
Place bananas, peanut butter, chocolate and honey in a high speed blender, add 500ml milk.
Blitz until smooth.
Add remaining milk or desired quantity for favourite milkshake thickness or texture. Serve in your favourite glass with reusable straws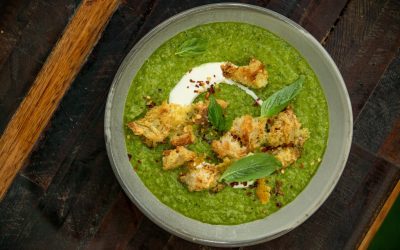 Ingredients: 2 heads broccoli 1 large leek, halved lengthwise, rinsed 2 tbsp extra virgin olive oil 1 head garlic, unpeeled 4 cups (1L) chicken or vegetable stock 120g baby spinach leaves 125g sour cream, plus extra to serve Chilli flakes & herbs, such as basil,...