Beetroot Relish
Elena Duggan
500g Beetroot, grated
250g Spanish onions, sliced
125g Apple cider vinegar
125g Water
100g Stevia (You could also use Monkfruit)
10 Black peppercorns
5 Whole cloves
Pink salt, to taste
Place all ingredients in a small or medium saucepan and simmer over low until thoroughly softened but not collapsing, with some texture remaining.
Place in a sterilized jar and refrigerate, relish will keep well for a fortnight or more.
Grain Free
Gluten Free
Refined Sugar Free
Sugar Free – Low Fructose
Dairy Free
Paleo Friendly
Ketogenic Friendly
BulletProof Friendly
Vegetarian
Vegan
Pescatarian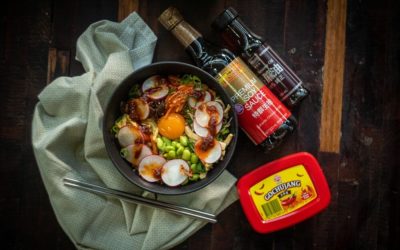 Ingredients: 4 cups Cooked short medium rice (piping hot) 1 Carrot (julienned) 1 Zucchini (julienned) 8 Dried shiitake mushrooms (rehydrated in warm water for at least 1 hr, sliced) 1 pack Enoki mushrooms, separated 4 Radishes, thinly sliced 1 cup Shelled edamame...