Beetroot Relish
Elena Duggan
500g Beetroot, grated
250g Spanish onions, sliced
125g Apple cider vinegar
125g Water
100g Stevia (You could also use Monkfruit)
10 Black peppercorns
5 Whole cloves
Pink salt, to taste
Place all ingredients in a small or medium saucepan and simmer over low until thoroughly softened but not collapsing, with some texture remaining.
Place in a sterilized jar and refrigerate, relish will keep well for a fortnight or more.
Grain Free
Gluten Free
Refined Sugar Free
Sugar Free – Low Fructose
Dairy Free
Paleo Friendly
Ketogenic Friendly
BulletProof Friendly
Vegetarian
Vegan
Pescatarian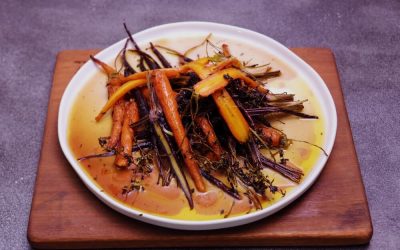 Join Elena Duggan as she creates her Honey Herbed Carrots recipe. Tune in to The Market kitchen each weekday on Channel 10.