Beetroot Relish
Elena Duggan
500g Beetroot, grated
250g Spanish onions, sliced
125g Apple cider vinegar
125g Water
100g Stevia (You could also use Monkfruit)
10 Black peppercorns
5 Whole cloves
Pink salt, to taste
Place all ingredients in a small or medium saucepan and simmer over low until thoroughly softened but not collapsing, with some texture remaining.
Place in a sterilized jar and refrigerate, relish will keep well for a fortnight or more.
Grain Free
Gluten Free
Refined Sugar Free
Sugar Free – Low Fructose
Dairy Free
Paleo Friendly
Ketogenic Friendly
BulletProof Friendly
Vegetarian
Vegan
Pescatarian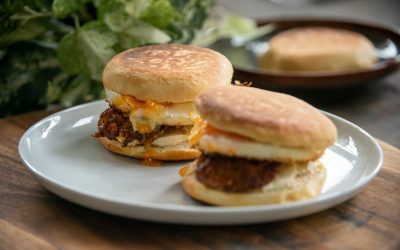 Ingredients: 300ml milk, plus extra 7g sachet of dried yeast 25g white caster sugar 50g shortening or lard 425g plain flour, plus extra 20g polenta, optional Unsalted butter Method: Gently warm the milk in a pan until lukewarm or body temperature, 37ºC. Add the yeast...