Beetroot Relish
Elena Duggan
500g Beetroot, grated
250g Spanish onions, sliced
125g Apple cider vinegar
125g Water
100g Stevia (You could also use Monkfruit)
10 Black peppercorns
5 Whole cloves
Pink salt, to taste
Place all ingredients in a small or medium saucepan and simmer over low until thoroughly softened but not collapsing, with some texture remaining.
Place in a sterilized jar and refrigerate, relish will keep well for a fortnight or more.
Grain Free
Gluten Free
Refined Sugar Free
Sugar Free – Low Fructose
Dairy Free
Paleo Friendly
Ketogenic Friendly
BulletProof Friendly
Vegetarian
Vegan
Pescatarian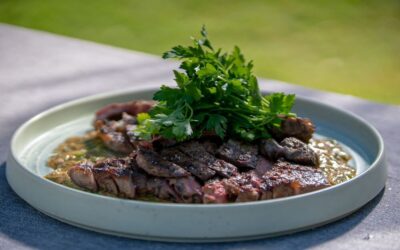 Ingredients: Serves: 2-4 2 x 250g T-bone or Rump steak Sea salt 2 Tbsp Olive oil 2 Tbsp Butter 1 brown onion, diced 2-3 cloves garlic, finely chopped 1 tsp dried chilli flakes 2 tsp dried mixed herbs 40 'twists' cracked black pepper 2 chicken stock cubes, crumbled 2-3...