Caramelised Onion Sausage Rolls
Elena Duggan
50g EVOO
1kg Brown onions, 850g after peeling, sliced into 5mm rings
20g Massel Vegetable stock powder
100g Boiling water
30g Stevia
Pinch Black pepper
500g Pork mince
500g Beef mince
3 large eggs, plus 1 for egg wash
6 Sheets Puff Pastry, thawed (you can also use Gluten Free if intolerant)
Dried Herbs & Spices
2.5g Sage
2.5g Rosemary
5g Parsley
5g Oregano
10g Smoked paprika
20g Garlic granules
12.5g Chives
25g Onion flakes
Optional
Sesame or poppy seeds for surface texture and decoration.
Preheat oven to 180° Celsius, fan forced.
In a large heavy based fry pan, heat EVOO to a medium heat, soften onions whist stirring to ensure even caramelisation. Add stock powder, water and stevia and stir until dissolved. Simmer until almost all liquid has evaporated.
While the onions are caramelizing, in a large bowl mix the mince, eggs and dried herbs and spices together until just combined and set aside.
Allow onions to cool to room temperature before stirring through the mince mixture.
Place an even amount of mince on each sheet of your pastry sheets and knead into long sausage shape in the centre across the length. Place a small amount or egg wash on the inside top of the sheet of pastry in a line, this will act as glue to seal the roll shut. Fold the bottom of the pastry sheet up and over the filling and then the top of the pastry sheet down to overlap it by approximately 1cm. Gently press the pastry together to form a seal.
On a lined baking tray, place the sausage rolls, sealed side down on the tray. Brush them all with egg wash thoroughly to gain even golden colour.
Gently press poppy or sesame seeds in a line down the middle. If smaller sizes are desired gently but firmly cut to size with a sharp knife and leave a gap between each roll on the tray.
Place sausage rolls in the oven for 30minutes, or until meat is cooked through and pastry is golden.
Serve hot with your favourite sauce or they are just as tasty cold in lunchboxes.
Notes
Once carmelised, the weight of the onions is reduced to below 500g (468g).
Dried ingredients negate the need for breadcrumbs in terms of aiding binding of mince mixture.
Twice the amount of beef mince can be used to substitute the pork – in fact any of your favourite mince (chicken, turkey, veal) or combination works well, you may choose to adjust herb ratios however.
Cutting the filled pastry into desired lengths is easier than filling pre-cut pastry.
Optional
Grain free option could substitute pastry with cabbage leaves or lettuce cups – but would require stir-frying mince in balls first.
Gluten free
Grain free, optional
Low Fructose / Minimal sugar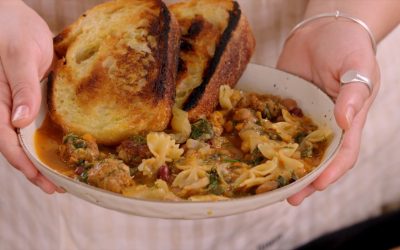 Ingredients: 4 Spicy Italian Sausages Packet of Farfalle Pasta 1 Leek 1 Carrot 1 Onion 2 Garlic 2 cups Shredded Cabbage 1 Chopped Silver Beet 1 400gm Tinned Beans 1 tsp Cumin powder 1 tsp Coriander  powder 1tsp Paprika powder 2 tbsp Tomato Paste Stock of your choice...