Charcoal BBQ Baby Squid
Matt Sinclair
Serves: 4
1kg Baby squid, cleaned
½ Tbsp Extra Virgin Olive oil
2-3 Tbsp Malay curry powder
2 tbsp Fish sauce
2 cloves garlic, finely grated
½ bunch fresh coriander
2-3 spring onions, thinly sliced
Dipping Sauce:
125ml white vinegar
70g caster sugar
40g green chilli, roughly chopped
12g salt
¼ Cucumber, roughly chopped
Lemongrass, white part only, outer layers removed, thinly sliced
Green Birdseye chilli, finely sliced
Heat coals ahead of time, until white.
Combine the oil, curry powder, fish sauce and garlic in a bowl and mix until the curry powder has dissolved. Taste and adjust seasoning if required. Marinade the squid in a non-reactive bowl, making sure to coat it evenly in the sauce, for a minimum of ½ hour.
Make the dressing by adding all the ingredients together in a blender and blitz to combine. Adjust the seasoning to taste. Add the sliced lemongrass and Birdseye chillies and set aside in a dipping bowl until required.
Lay the squid on the grill on top of the coals and bbq for 3-4 minutes, turning often to get even colour. Charred bits are definitely okay! Remove onto a chopping board and cut into bite-sized chunks and transfer to a serving plate.
Garnish with fresh coriander leaves and spring onion and serve the dipping sauce on the side. Serve hot.
Our friends at Wine Selectors suggest pairing this dish with a Vermentino.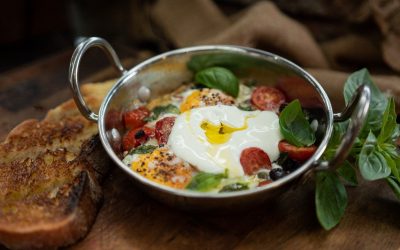 Ingredients: 9 cherry tomatoes, halved 1 small garlic clove, thinly sliced 2 tsp good-quality olive oil 1 tsp balsamic vinegar 5 basil leaves, torn, plus a few extra to serve if you like 5 pitted olives, sliced 2 large free-range egg 1 tsp small capers, rinsed salt...