Cheeseburger Spring Rolls
Khanh Ong
1 tsp olive oil
1L of vegetable oil
150g high fat minced beef
1⁄4 red onion diced
1 tbsp chopped parsley
1 tsp garlic powder
1⁄2 tsp black pepper
1 tbsp seeded mustard
1⁄4 cup of grated mozzarella
1⁄4 cup of breadcrumbs
2 tbsp chopped chives
1 garlic clove minced
1 tbsp worcestershire sauce
A pinch of salt
1 egg whisked
24 spring roll wrappers
Dipping Sauce:
1⁄2 cup of kewpie mayo
1 tbsp ketchup
2 tsp chopped dill pickle
1 tsp mustard
1⁄4 tsp paprika
Heat a medium pot of oil to 180c
For the filling, combine all the ingredients except 1⁄2 the whisked egg and the wrappers.
Place the wrapper as a diamond shape and spread a heaped tbsp of the mixture about 2/3rds down the wrapper in a thick line.
Use a pastry brush, brush the sides of the wrapper with egg, fold the left and ride side of the wrapper towards the centre.
Roll the spring roll from the bottom to the top and repeat with filling and wrappers.
Fill a medium saucepan with enough oil to cover spring rolls, heat to 180c (test using a small piece of spring roll wrapper, if it turns golden the oil is ready)
Cook the rolls in batches for 3-4 minutes until golden.
Set aside on paper towel to excess oil.
For dipping sauce, mix together all ingredients and serve
Our friends at Wine Selectors recommend pairing this dish with a Shiraz Pinot Noir or a Barbera.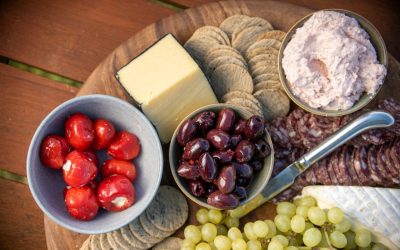 Ingredients: Hard Cheese Soft Cheese Blue Cheese 1 baguette  A bunch of Green Grapes Honeycomb Salami (sliced) Smoked Salmon Dip Artisan Crackers Beetroot dip Poppy Seed Skordalia Dip Dukkah Stuffed Bell Peppers Marinated Olives (pitted) Method: There are no rules or...