Chicken and Corn Egg Drop Soup
Matt Sinclair
Serves: 4
2 Tbsp oil
1 red shallot, finely diced
4cm piece ginger, grated
2 cups corn kernels, roughly chopped
100ml Shaoxing wine
1.5 litres chicken stock
2 Tbsp corn flour
2 tsp light soy sauce
150g deboned BBQ chicken, roughly chopped
3 eggs, lightly beaten
¼ tsp white pepper
Salt
1 Tbsp sesame oil
2 spring onions, finely sliced
Heat the oil in a heavy-based pot over a medium heat and fry off the shallot and ginger for 1-2 minutes, stirring often. Add the corn, mix to combine, and cook for 1 more minute before adding the Shaoxing wine. Let it simmer until the liquid reduces by about half. Pour in the stock and bring to a boil. Reduce the heat to low and let the soup simmer for about 20 minutes.
In a small bowl, combine the cornflour and soy sauce with 3 Tbsp water and whisk together until the cornflour has dissolved. Pour into the soup and mix well.
Add the chicken to heat it through and season the soup with white pepper and salt to taste. Gently drizzle the egg into the soup, stirring constantly with a fork to break it up. Once the egg has set into ribbons, remove from the heat, and serve. Garnish with a little drizzle of sesame oil and spring onions.
Our friends at Wine Selectors suggest pairing this dish with a Riesling.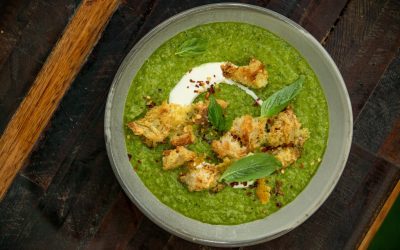 Ingredients: 2 heads broccoli 1 large leek, halved lengthwise, rinsed 2 tbsp extra virgin olive oil 1 head garlic, unpeeled 4 cups (1L) chicken or vegetable stock 120g baby spinach leaves 125g sour cream, plus extra to serve Chilli flakes & herbs, such as basil,...