1 Avocado, 1cm diced
1 Cob corn, barbecued, kernels removed
½ Punnet Cherry tomatoes, quartered
¼ Red/ Spanish onion, 2-5mm finely diced
½ Lebanese cucumber, 1cm diced
1 Baby cos lettuce or cos lettuce heart
¼ Capsicum, orange or red if possible
½ Carrot, peeled and grated
½ Chicken breast, 1cm diced or Tofu cubes
50-75g Tasty cheese, grated
50g Black olives, sliced
50g Black beans
Dressing
Arrange all ingredients according to colour in wedges on presentation plate.
Drizzle over ranch dressing.
Gluten free
Grain free
Vegetarian optional
Zero refined sugar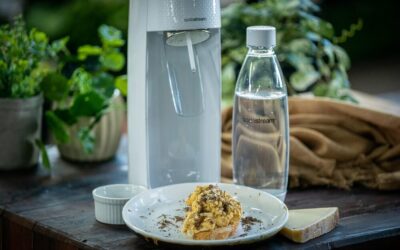 Ingredients: Serves 4 12 eggs, best quality you can afford 150ml sparkling water 2 tablespoons freshly grated parmesan Sea salt and freshly cracked pepper 20g butter 4 thick slices of sourdough, toasted/charred Method: Mix together the eggs, sparkling water, parmesan...