Flourless Orange Cake with Lemon Buttercream
Kay-Lene Tan
Flourless Orange Cake
Oranges 3pcs
Sugar 375g
Ground cardamom 3g
Cinnamon 1 large pinch
Almond meal 450g
Baking powder 7.5g
Eggs 8 pcs
Lemon Buttercream
Eggs 110g
Butter 500g
Sugar 145g
Water 40g
Lemon juice 50g
Flourless Orange Cake
Fill a pot with cold water, and place orange in. Use a metal tray, or plate, to ensure the oranges are completely submerged. Bring water to boil, and allow to simmer for about 2 hours, or until the oranges are completely soft.
Once they are done, cut oranges and remove the pith, fiber and any seeds. Put oranges into a blender with sugar, ground cardamom, and cinnamon. Blitz until smooth, then pour into a bowl. Whisk in almond meal, and baking powder.
In a mixing bowl, whisk the eggs until fluffy. Fold the eggs into the orange mixture gently. Pour into a cake tin lined with baking paper. Bake at 170⁰c for about 45 minutes. Use a skewer and test if it comes out clean.
Allow the cake to cool for 5 minutes before removing from the tin.
Lemon Buttercream
Soften butter in the microwave.
Crack eggs into a mixing bowl with the whisk attachment, and whisk on medium speed.
Bring sugar and water to 112⁰c, then pour into eggs steadily. Allow to whisk until the bowl is cool to touch.
Add in soft butter, and whisk until smooth and creamy. Add in lemon juice. Change the attachment to a paddle and allow to beat for 3 minutes.
Use as required.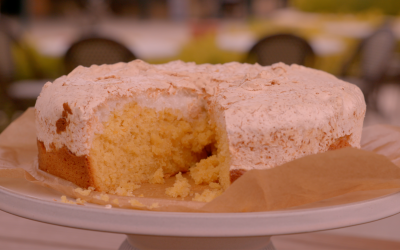 Ingredients:BASE 3 Egg Yolks 1/2 cup Caster Sugar 125g soft butter 2 cups Self-Raising flour 1 cup orange juice Vanilla   TOPPING 3 egg whites 1/2 cup caster sugar 1 cup desiccated coconut Method: Beat butter and sugar until creamy. Add yolks and vanilla. Fold in the...