Gourmet Tomato and Buratta Salad with Homemade Balsamic Reduction
Matt Sinclair
Serves: 2
4 Heirloom tomatoes (assorted colours), thickly sliced
1-2 balls burrata
½ red onion, thinly sliced
20 basil leaves
1-2 Tbsp Extra Virgin Olive Oil
Sea salt
Cracked Pepper
Reduction:
1 cup balsamic vinegar
2 Tbsp brown sugar
½ tsp sea salt
Add the balsamic, sugar and salt to a small saucepan over a medium heat. Mix until the sugar and salt has dissolved. Bring to a light boil before reducing the heat to low and simmer, stirring occasionally for 10-15 minutes or until the liquid has dissolved by half and the liquid coats the back of a spoon. Remove and set aside to cool before using. **note: the reduction will thicken slightly once cooled.
To serve, scatter the sliced tomatoes across a share platter, followed by the red onion and then the basil leaves. Place the whole burrata ball/s in the centre, drizzle everything with olive oil and season well with sea salt and cracked pepper. Finally, drizzle over about 1-2 Tbsp of balsamic reduction, or to taste and garnish with the basil leaves. Serve on its own or with crusty bread.
Store remaining balsamic reduction in a clean jar in the fridge for up to 1 month.
Our friends at Wine Selectors suggest pairing this dish with a Rose.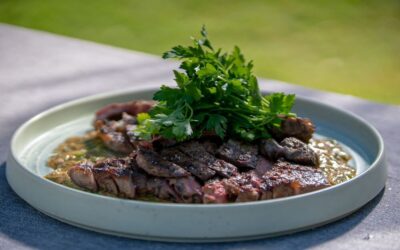 Ingredients: Serves: 2-4 2 x 250g T-bone or Rump steak Sea salt 2 Tbsp Olive oil 2 Tbsp Butter 1 brown onion, diced 2-3 cloves garlic, finely chopped 1 tsp dried chilli flakes 2 tsp dried mixed herbs 40 'twists' cracked black pepper 2 chicken stock cubes, crumbled 2-3...