Indonesian BBQ Beef Ribs
Karen Chan
Brine
1L water
3 tbsp salt
3 cloves garlic
1 stalk lemongrass, bruised
1 tsp galangal powder
3 cm ginger, sliced
2 pcs star anise
Marinade
5 tbsp ABC Sweet Soy Sauce Kecap Manis
5 tbsp honey
3 cloves garlic, grated
2 tsp ginger, grated
1 tbsp chilli powder
1 tbsp Lee Kum Kee Panda Brand Oyster Sauce
1 tsp white pepper
2 tbsp tomato puree
1 tbsp Lee Kum Kee Premium Soy Sauce
3 tbsp apple cider / white wine vinegar
In a large pot, soak ribs in brine for 2 hrs. Then, bring to a boil and simmer for 1 hr until meat is tender. Leave to cool before removing the ribs.
Mix marinade ingredients in a large bowl. Coat each rib well with marinade.
Cook ribs on hot griddle pan or barbeque for 5 mins on each side until the marinade caramelises, basting as you grill.
Rest ribs for 5 mins before serving.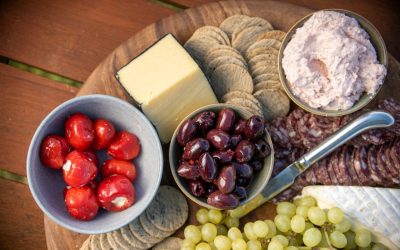 Ingredients: Hard Cheese Soft Cheese Blue Cheese 1 baguette  A bunch of Green Grapes Honeycomb Salami (sliced) Smoked Salmon Dip Artisan Crackers Beetroot dip Poppy Seed Skordalia Dip Dukkah Stuffed Bell Peppers Marinated Olives (pitted) Method: There are no rules or...