Recipe brought to you with the help of our friends at Wine Selectors
Serves: 4-6
200gm Glutinous rice, soaked overnight, or minimum 3 hours
1 Tbsp vegetable oil
500gm Pork mince
1 tin red curry paste (Maesri brand)
2tsp Caster sugar
2 Tbsp Fish sauce
1 tsp white pepper
Pinch salt
2 banana leaves, cut into 20x20cm squares
150ml coconut cream
1 bunch fresh coriander, roughly chopped
3 spring onions, finely sliced lengthways (2-inch)
3 kaffir lime leaves, chiffonade
2 Birdseye chillies, finely sliced
Heat oil in a wok over high heat until it shimmers. Add the pork mince and fry off, moving constantly for 3-4 minutes until almost cooked. Add in the red curry paste and fry off, mixing and combining with the pork for a further 2-3 minutes. Season with fish sauce, sugar, pepper and salt and adjust to taste if needed.
In a mixing bowl, combine an equal amount of soaked rice and cooked pork and fold together. Lay out about 1/2 cup of mixture in the centre of each banana leaf and spread out to about ½ inch thickness. Fold in the sides to cover and wrap up the mixture in a parcel. Secure the banana leaf with an elastic band or string. ** Note: To soften the banana leaves before filling, gently wave over a heat/flame, this will make it easier to fold.
Place into the bamboo steamer and cook undisturbed for approximately 30 minutes or until rice is cooked through. Remove from the steamer and serve open in the banana leaf. Season the coconut cream with a little pinch of salt, mix together and drizzle over the rice. Garnish with fresh coriander, spring onion, shredded kaffir lime leaves and Birdseye chillies. Serve warm.
Our friends at Wine Selectors suggest pairing this dish with a Trebbiano.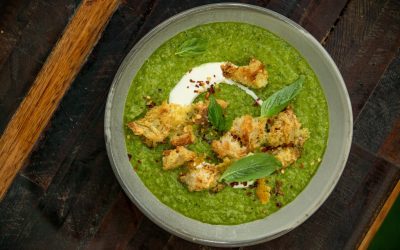 Ingredients: 2 heads broccoli 1 large leek, halved lengthwise, rinsed 2 tbsp extra virgin olive oil 1 head garlic, unpeeled 4 cups (1L) chicken or vegetable stock 120g baby spinach leaves 125g sour cream, plus extra to serve Chilli flakes & herbs, such as basil,...