Mango Flourless Cake
Mike Reid
125g Mango Puree
125g Ground Almonds
110g Caster Sugar
3 Whole Eggs
1 Tsp Baking Powder
Grease your cake Mould
Preheat the oven to 180°
Beat the eggs until light and fluffy. Add the mango, almonds, sugar and baking powder to the bowl and mix thoroughly, then pour into your individual cake moulds.
Bake for about 25 minutes or until the cake is firm to touch and lightly golden
Cool in the tin before turning it out
Tip: Mango puree can be made from fresh or frozen mango pieces, blitz to a smooth puree.
For chef quality results, we recommend using Anolon cookware!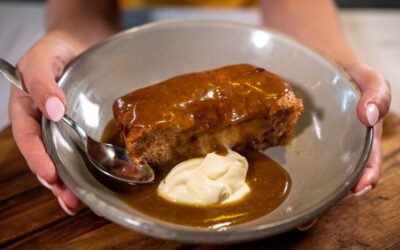 Ingredients: 185 g dates 1 cup water 60g butter 2 eggs 185g self raising flour 185g sugar 1tsp baking powder ½ tsp vanilla paste Butterscotch Sauce: 1 cup cream ¾ cup brown sugar 2 tbsp butter Pinch of salt Method: Bring the dates and water to a boil, then remove from...