Pad Kra Pow
Matt Sinclair
Serves 4
3 tbsp vegetable oil
3 cloves garlic, minced
1 inch piece ginger, minced
3 red birdseye chillies
500gm beef mince
60ml fish sauce
60ml oyster sauce
40gm caster sugar
2gm ground white pepper
100ml water or salt reduced chicken stock
100gm diced green beans (snake beans if available)
2 Large handfuls Holy (Thai) basil
To Serve
Steamed rice
Crispy shallots
1 fried egg per serve
Heat oil in a pan or wok over a high heat. Fry off the garlic, ginger and chillies for a moment, moving constantly to avoid any colouration. Break up the beef mince into smaller pieces and add to the wok. Stir fry the beef for a further minute, moving constantly until just cooked.
Season with fish sauce, oyster sauce, sugar and pepper to taste. Add the water or stock and allow to simmer for a moment, moving around the wok to evenly coat in the sauce – avoid the beef boiling or stewing for too long, this will cause the meat to toughen.
Once a sauce has formed, add in the green beans and Holy basil. Toss through to coat and remove from the heat. Taste and adjust seasonings if required. Serve immediately topped with a fried egg and crispy shallots and steamed rice on the side.
Notes:
The sauce should have an even balance of richness with sweet, salty and spicy flavours.
The seasoning amounts in this dish are quite intense (very authentic to Thai cuisine and Matt's preference), however can be altered to soften in intensity to suit the 'everyday' palate.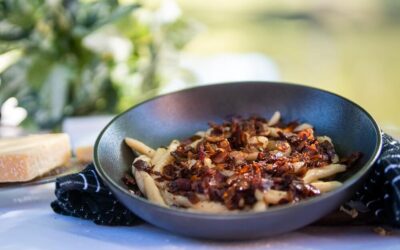 Ingredients: 250g fresh pasta 3 large free range eggs 40g parmigiano cheese 150g smoked pancetta / guanciale Sea salt flakes Black pepper Method: In a mixing bowl, whisk the eggs, parmigiano cheese, salt and pepper. In the meantime, place the diced pancetta into a fry...