Pantry Pasta
Matt Sinclair
Serves: 2-4
400g pasta
Sea salt
3 Tbsp Extra Virgin Olive Oil
1 onion (any colour), diced
4-5 cloves garlic, thinly sliced
1-2 Tbsp dried chilli flakes
1-2 Tbsp fennel seeds
100gm pitted green olives (jarred), chopped
50gm pickled zucchini, roughly chopped
Cracked pepper
Fresh lemon
Bring a pot of salted water to a boil and cook pasta as per packet instructions. Drain and set aside.
Meanwhile, heat oil in a frypan over a medium heat. Sauté the onions for 3-4 minutes until softened.
Add in the garlic, chilli and fennel seeds, season with salt and pepper and cook for a further 2 minutes.
Add the olives and zucchini and toss to combine. Add the pasta to the pan and toss/mix well to coat.
Divide into serving bowls and season with fresh lemon. Crumbled fetta or parmesan or fresh herbs can be added if you have it handy in the fridge.
Notes:
This recipe is incredibly versatile. Use jarred ingredients including capers, red peppers, sun dried tomatoes etc OR canned ingredients including tuna, anchovies etc. Dried herbs including Italian herbs, Mixed herbs, oregano, parsley etc can also be used if desired.
Our friends at Wine Selectors suggest pairing this dish with a Pinot Grigio.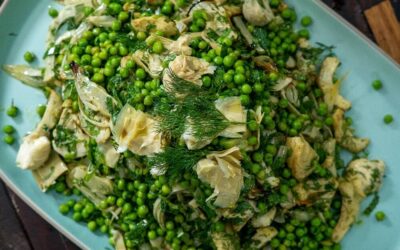 Ingredients: 500g fresh broad beans, in their pods 3–4 small fennel bulbs 250g frozen peas, thawed and rinsed 1 red onion, finely sliced 1 cup dill, finely chopped 1⁄2 bunch mint, finely chopped, plus extra whole leaves to garnish 1⁄2 bunch flat-leaf parsley, finely...