Pea and Ham Soup
Matt Sinclair
Serves: 8
1 Tbsp Extra Virgin Olive Oil
2 large brown onions, finely chopped
3 large carrots, finely diced
1 litre salt reduced chicken stock
2.5 cups split green peas (soak the night before to reduce cooking time)
1 smoked ham hock
Salt and pepper
150g Greek feta
½ bunch dill, roughly chopped
Heat the oil in a large pot over a medium heat. Add the onion and carrot and cook, stirring often until onions are translucent, approximately 6-8 minutes.
Deglaze with the chicken stock, add in the split peas and ham hock and mix to combine. Add enough water to just cover the ingredients, increase the heat to medium-high and bring to a light boil.
Reduce the heat to low, cover and simmer for approximately 2.5-3 hours, until sauce has thickened, and hock meat pulls away from the bone.
Carefully remove the bone and flake the hock meat into the soup. Season to taste with salt and pepper.
Serve with some crumbled feta on top and garnish with chopped dill.
Our friends at Wine Selectors suggest pairing this dish with a Sauvignon Blanc.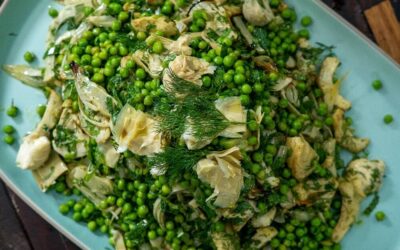 Ingredients: 500g fresh broad beans, in their pods 3–4 small fennel bulbs 250g frozen peas, thawed and rinsed 1 red onion, finely sliced 1 cup dill, finely chopped 1⁄2 bunch mint, finely chopped, plus extra whole leaves to garnish 1⁄2 bunch flat-leaf parsley, finely...