Pipis in XO Sauce
Elena Duggan
1kg Australian Pipis
3 spring onions, sliced finely on an angle
1 long red chili, finely sliced on an angle
3 Garlic cloves, thinly sliced
250g Massel reduced salt chicken or vegetable stock
To serve:
Spring onions, finely sliced
Red chilies, finely sliced
50g Fried shallots
Optional
Pipis could be replaced with mussels or clams for a similar dish, or other seafood prepared appropriately.
For the pipis, in a wok, add oil and garlic and bring up to a high heat and stir fry until fragrant or approximately 1 minute.
Add the XO sauce and stock and stir for 1minute.
Add the pipis, coating in the sauce thoroughly. Place lid on and reduce heat to medium high. Cook until the pipi shells are just open. Remove lid and toss through sauce again. Process could take 5-8 minutes depending on pipi size, freshness and age.
Add the chilli, toss through. Present on a shallow serving platter and scatter spring onions all over the top. Serve as soon as possible.
Gluten free
Grain free (leave off corn/ corn chips)
Nut free
Low fructose/ sugar free
Pescataria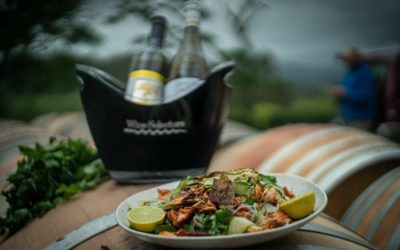 Ingredients: 100g glass noodles (bean thread vermicelli) 2 Lebanese cucumbers, thinly sliced using a vegetable peeler 4 spring onions, thinly sliced on diagonal 2 eschalots, thinly sliced 1 cup coriander sprigs 1 cup flat-leaf parsley sprigs 1-2 small red chillies,...