Plain Avocado on Toast
Joel Feren
Serves 2
1 avocado, peeled, pitted, cubed
2 scoops Ensure Neutral powder
Juice of ½ a lemon
2 slices light rye bread, toasted
1 tbsp extra virgin olive oil
Salt and pepper to taste
Chopped coriander leaves and dried chilli flakes to serve (optional)
Add avocado, Ensure powder, lemon juice and seasoning to a mixing bowl and gently mash with a fork to combine. Make sure there are no visible lumps of Ensure powder in the mixture.
Drizzle toasted light rye slices with oil.
Top toast with avocado mix and garnish with chopped coriander and dried chilli flakes.
Consider serving with eggs, mushrooms and/or oven-roasted tomatoes.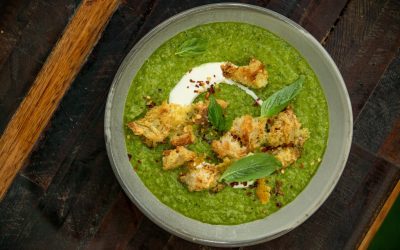 Ingredients: 2 heads broccoli 1 large leek, halved lengthwise, rinsed 2 tbsp extra virgin olive oil 1 head garlic, unpeeled 4 cups (1L) chicken or vegetable stock 120g baby spinach leaves 125g sour cream, plus extra to serve Chilli flakes & herbs, such as basil,...