Serves: 4-6
1 kg pork belly, cut into 4cm pieces
1/3 cup apple cider vinegar
1/3 cup soy sauce
6 cloves garlic, grated
2 tsp black peppercorns
2 Tbsp olive oil
1 red onion, cut into wedges or chunks
3 bay leaves
1 Tbsp brown sugar
Salt
Add the pork belly to a non-reactive bowl and coat evenly with vinegar, soy sauce, garlic and peppercorns. Leave to marinade for 30 minutes.
Heat 1 Tbsp of oil in a pan over medium-high heat. Drain the pork, keeping the marinade aside. Cook the pork in batches for 3-4 minutes, until lightly golden. Use a slotted spoon to remove to a plate.
Return the pan to a medium heat and add the remaining oil if required (may be plenty remaining from the pork). Fry off the onions, stirring often for about 5 minutes. Return the pork to the pan along with the reserved marinade, 1 cup of water and the bay leaves. Season with salt and bring to a light simmer. Reduce the heat to low and cook for 40 minutes – 1 hour. Add the sugar and adjust seasoning to taste with extra vinegar, salt or sugar if required.
Cook for a further 15 minutes or until pork is tender and sauce has thickened. Serve with steamed rice and garnish with the chopped spring onion.
Our friends at Wine Selectors suggest pairing this dish with a Pinot Noir.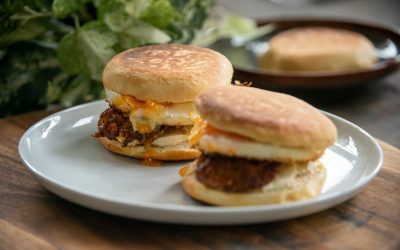 Ingredients: 300ml milk, plus extra 7g sachet of dried yeast 25g white caster sugar 50g shortening or lard 425g plain flour, plus extra 20g polenta, optional Unsalted butter Method: Gently warm the milk in a pan until lukewarm or body temperature, 37ºC. Add the yeast...