Pork Cutlets with Apple and Cucumber Relish
Matt Sinclair
Serves: 4
4 pork cutlets, 1 inch thick
Marinade:
4 cloves garlic
2 tbsp ground cumin
2 tbsp ground coriander
1 tbsp ground turmeric
1 tbsp chilli flakes
3 tbsp fish sauce
2 tbsp brown sugar
2 tbsp oil
Salad:
1 Lebanese cucumber, peeled, diced
1 large green apple, cored, peeled, diced
1 cup picked Thai basil
1 cup picked mint leaves
½ cup picked Vietnamese mint
2 long red chillies, sliced (optional)
Juice of 1 lime
Pinch salt
Pinch sugar
Add all marinade ingredients into a blender and blitz until smooth. Cover the pork cutlets generously in a non-reactive container and leave for at least an hour, ideally overnight.
Heat BBQ Grill to high (approximately 260C) and place cutlets side down on the grill leaning on one another to begin rendering out the fat. After 3-4 minutes place them down flat on a new section of the grill for a couple of minutes either side. Rest for at least 10 minutes.
Combine all salad ingredients and season with a touch of sugar and salt, this will draw out moisture from the cucumber and apple to create a bit of a dressing. Slice pork and serve.
Our friends at Wine Selectors suggest pairing this dish with a Chardonnay.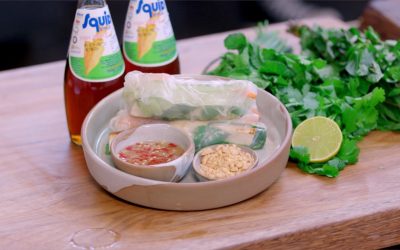 This recipe is brought to you by our friends at Asian InspirationsIngredients:Serves: 8 Prep Time: 10 mins Cook Time: 15 mins Main Ingredients: 1 packet rice paper 150g rice vermicelli noodles 1 bunch coriander 1 bunch Thai basil 1 bunch mint 1 bunch garlic chives 1⁄4...