Red Duck Curry
Elena Duggan
1 duck – broken down into at least 8 parts, reserve bones
1 serve Red Curry Paste
500g Chicken stock
1 large Onion, sliced into crescents
1 can Coconut cream, maximum % coconut
250g Pineapple, cut into pieces (if using canned – drained, halved reserve juice to season)
250g Cherry tomatoes, halved or quartered
250g Lychee flesh, (if using canned – drained, halved reserve juice to season)
Fish sauce, to taste
Thai basil, leaves only
Coriander, leaves only, reserve roots and stems for paste
To Serve
Steamed jasmine rice
Extra herbs of above
2 Limes, halved
Sliced red chili
Extra Fancy Garnish
Lotus root sliced, frozen and well drained
Reserved duck fat
Salt to taste
To prepare the duck, place pieces skin side down in a cold, large non-stick fry pan. Gently increase the heat to medium to render the fat. Drain fat and reserve in a heatproof bowl. Duck can be turned to ensure all sides are caramelised, remove breast meat first, meat with bones can have an additional 3-5minutes. Duck will be cooked again in curry sauce, so if not cooked through, this is okay – the main purpose is to render and remove fat and seal all sides. Remove from heat and set aside.
To prepare the curry base, place paste in a large non-stick fry pan and simmer whilst stirring for up to 10minutes or until fragrant and caramelised. Deglaze with chicken stock and simmer over low for additional 5-10minutes.
While curry sauce is simmering, heat the rendered duck fat to medium in a small fry pan and fry the lotus slices until golden in colour. Strain well and season with salt, lotus chips with crisp further on cooling. Set aside for garnish.
Return duck pieces to curry sauce along with onion and coconut cream. Simmer for up 10minutes or until duck is cooked through – you can inspect a thicker piece with a bone in but slicing open if you're uncertain.
Place half the pineapple, half the tomatoes and half the lychees to the curry and stir through. Heat for a further 2-5minutes.
Serve duck curry in a large share bowl, garnish with remaining fruit, herbs and lotus chips.
Gluten free
Grain free – substitute rice for quinoa or cauliflower rice or mashed potato
Refined sugar free
Dairy free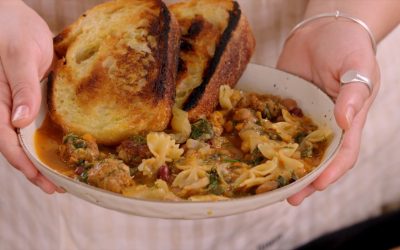 Ingredients: 4 Spicy Italian Sausages Packet of Farfalle Pasta 1 Leek 1 Carrot 1 Onion 2 Garlic 2 cups Shredded Cabbage 1 Chopped Silver Beet 1 400gm Tinned Beans 1 tsp Cumin powder 1 tsp Coriander  powder 1tsp Paprika powder 2 tbsp Tomato Paste Stock of your choice...