Sashimi Swordfish with Sorrento Sprtiz
Matt Sinclair
Serves 2-4
500g sashimi grade Swordfish, thinly sliced
100g Cashew Creme
50g watercress
1/2 red onion, thinly sliced
1/3 cup flaked almonds, lightly toasted
Extra Virgin Olive oil
Fresh Lemon
Sea salt
Cracked pepper
Olive and Currant Tapenade
1 cup green pitted olives, finely chopped
6 White anchovies or 2 jarred anchovies, finely chopped
1/4 cup currants
2 Tbsp fresh parsley, finely chopped
1 clove garlic, grated
Zest and Juice of 1 lemon
1/4 cup Extra Virgin Olive Oil
Sea salt
Cracked Pepper
Sorrento Spritz
30ml tanqueray sevilla gin
10ml tenuta tamburine white vermouth
2 dashes Grapefruit bitters
30ml Lemon juice
60ml prosecco
Combine the tapenade ingredients in a bowl and mix to combine. Adjust seasoning to taste.
To serve, dollop and lightly smear the Greek yoghurt on the base of a platter. Scatter the swordfish randomly across the platter.
Very lightly coat the watercress with a small amount of olive oil and lemon juice in a bowl and scatter over the top of the swordfish followed by the red onion and flaked almonds.
Sprinkle and dollop the tapenade randomly over the top of the dish, drizzle with olive oil and season with fresh cracked pepper and a little sea salt.
Can be served with crusty bread on the side.
Sorrento Spritz
Mix ingredients together in a glass, then top with ice, orange and mint to garnish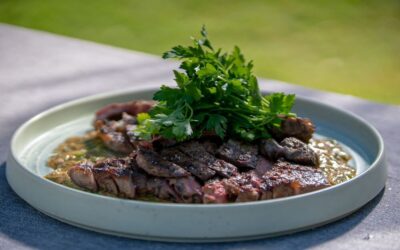 Ingredients: Serves: 2-4 2 x 250g T-bone or Rump steak Sea salt 2 Tbsp Olive oil 2 Tbsp Butter 1 brown onion, diced 2-3 cloves garlic, finely chopped 1 tsp dried chilli flakes 2 tsp dried mixed herbs 40 'twists' cracked black pepper 2 chicken stock cubes, crumbled 2-3...