Skillet Hotcakes
Elena Duggan
250g gluten-free flour
20g baking powder
1 tsp salt flakes
500ml whole milk
3 eggs, lightly beaten
100g butter, melted and warm
3 egg whites, whisked to firm peaks
100g caster sugar
Butter for greasing skillet
To Serve:
1 Vanilla Bean
200g mascarpone
100ml honey
50g Unsalted Butter
To Garnish:
125g fresh blueberries
125g fresh raspberries
50g dark chocolate shavings
Mint leave (or you could us edible flowers)
Whisk egg whites and sugar until firm peaks.
In a large bowl, combine flour, baking powder, whole eggs, salt, milk, and melted butter.
Gently fold egg whites through batter in bowl.
Heat skillet on the stove top to a medium heat, melt approx. 1tsp additional butter.
Depending on the size of your skillet, divide batter into two smaller greased skillets or one larger one.
Bake at 165 degrees Celsius for 18-25 minutes, or until light, fluffy and a skewer comes out clean.
Whisk mascarpone and vanilla together until smooth.
Melt butter and honey together and pour over hotcakes when removed from oven.
Allow slight cooling before serving in skillet with mascarpone, flowers, berries and chocolate.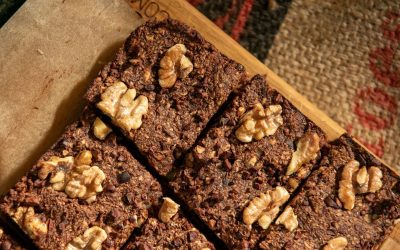 This recipe is brought to you with the help of our friends at JC's Quality Foods Ingredients: 1 ½ cups raw cashews 1 ½ desiccated coconut 3 medium ripe bananas, peeled and chopped 10 fresh dates, pitted 2 tsp vanilla extract ⅓ cup raw cacao powder ½ tsp bicarbonate of...