Spinach and Ricotta Dumplings
Matt Sinclair
Serves 4
2 tbsp Extra virgin olive oil
1 large brown onion
2 cloves garlic, crushed
2 tsp dried oregano
2 x 400g tins of crushed tomatoes
1 bunch basil, leaves picked
Sea salt
250g frozen spinach
375g fresh ricotta
50g parmesan cheese, grated
2 eggs
1/4 cup plain flour
Pinch of ground nutmeg
100g rocket
1 red onion, finely sliced
1 lemon
Place a heavy based saucepan over a high heat. Heat the olive oil and add the onion and garlic to the saucepan and saute for 3-4 minutes. Add dried oregano, crushed tomatoes and picked basil. Reduce to a simmer.
Drain the thawed spinach and squeeze out excess liquid. Place in a large bowl with ricotta, parmesan, eggs, flour and nutmeg and combine well with a wooden spoon or spatula.
Using 2 dessert spoons create small balls/dumplings out of the spinach and ricotta mix. Drop them into the sugo sauce, spreading them around the saucepan evenly, ensuring they are slightly submerged. Reduce to a low heat and place the lid on. Allow the dumplings to poach for approximately 10 minutes.
Dress the rocket and onion with fresh lemon juice and a touch of olive oil. Distribute the sauce and dumplings into bowls, top with dressed rocket and onion and serve.
Our friends at Wine Selectors suggest pairing this dish with a Fiano.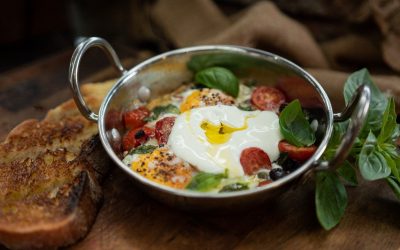 Ingredients: 9 cherry tomatoes, halved 1 small garlic clove, thinly sliced 2 tsp good-quality olive oil 1 tsp balsamic vinegar 5 basil leaves, torn, plus a few extra to serve if you like 5 pitted olives, sliced 2 large free-range egg 1 tsp small capers, rinsed salt...