Steak with Pepper Sauce
Matt Sinclair
Serves: 2-4
2 x 250g T-bone or Rump steak
Sea salt
2 Tbsp Olive oil
2 Tbsp Butter
1 brown onion, diced
2-3 cloves garlic, finely chopped
1 tsp dried chilli flakes
2 tsp dried mixed herbs
40 'twists' cracked black pepper
2 chicken stock cubes, crumbled
2-3 Tbsp oyster sauce
¼ cup chopped parsley
2 spring onion, finely chopped
100ml cream
Preheat a BBQ grill or hotplate on high.
Remove the steak from the fridge at least 30 minutes before cooking. Season both sides generously with sea salt. BBQ the steak to your personal preference – avoid moving it once it is on the hot plate and turn once. Transfer to a plate and keep warm while it rests for half of the cooking time.
In the meantime, heat the olive oil and butter in a pan over a medium-high heat until shimmering and foaming. Add the onion and garlic and fry off, moving often for about a minute before adding the chilli flakes, herbs, pepper and stock cube powder. Toss through to combine and cook for another minute. Pour over the oyster sauce and mix together. Cook for a few minutes to reduce a little.
Remove from the heat and toss through the parsley and spring onions. Pour in the cream and whisk to combine. Return to a lower heat for a minute to warm through. Adjust to taste.
Serve the steak whole as individual meals, or slice and serve on a shar platter. Spoon over the pepper sauce and serve hot.
Our friends at Wine Selectors suggest pairing this dish with a Cabernet Shiraz Blend.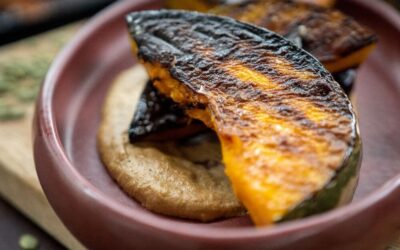 Ingredients: Crown Pumpkin (or similar) Pumpkin Puree: 250g Pumpkin seeds 100g Miso 500g Spanish Onion 100g Butter Method: Pumpkin Puree: Roast pumpkin seeds at 200 degrees until golden Sweat down onions in butter until nice and golden Once all cooked blitz together...