Tom Yum Mussels
Matt Sinclair
Recipe brought to you with the help of our friends at Wine Selectors
Serves: 4
1 Litre Chicken stock
3 stalks lemongrass, white part only, bruised
1-inch piece Galangal, thinly sliced
4 kaffir lime leaves, torn
3 green Birdseye chillies, chopped
2 Golden shallots (eschalot), peeled and sliced
1 punnet cherry tomatoes, halved
2cm fresh turmeric, finely sliced
2kg Mussels, cleaned/debearded
1-2 Tbsp fish sauce, to taste
2-4 Tbsp lime juice, to taste
1 bunch fresh coriander stems and leaves, roughly chopped (cleaned coriander root can be added to the stock in step one)
Place the stock, lemongrass, galangal, kaffir lime leaves, chillies, shallots, cherry tomatoes and turmeric into a large pot over a medium heat and bring to a light boil. Reduce the heat and simmer for 10-15 minutes to infuse the flavours. Season to taste with fish sauce and lime juice.
Place a larger pot or wok over a high heat. When the wok is very hot, add the cleaned mussels and cover with a lid to steam for about 20 seconds. Take the lid off and pour the hot broth over the mussels straight away. Taste and adjust seasoning if required. *Be careful not to over salt the broth with fish sauce initially as there will be some salt water released from the mussels.
Divide into serving bowls and garnish with fresh coriander. Serve immediately.
Our friends at Wine Selectors suggest pairing this dish with a Gewurztraminer.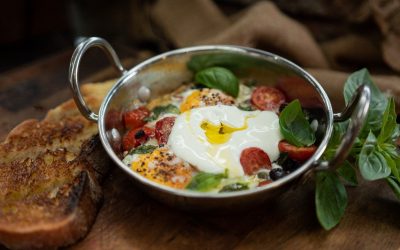 Ingredients: 9 cherry tomatoes, halved 1 small garlic clove, thinly sliced 2 tsp good-quality olive oil 1 tsp balsamic vinegar 5 basil leaves, torn, plus a few extra to serve if you like 5 pitted olives, sliced 2 large free-range egg 1 tsp small capers, rinsed salt...