Vietnamese Spring Rolls with Kaffir South Side
Matt Sinclair
1 packet rice paper wrappers
500g Pork mince
150g wood ear mushrooms, pre-soaked then strained, roughly chopped
150g Vermicelli noodles, softened, roughly chopped
2 cloves garlic, finely grated
1 egg, lightly beaten
2 Tbsp fish sauce
2 Tbsp caster sugar
2 tsp white pepper
1 Butter or Gem lettuce, leaves separated
½ bunch Shiso or Perilla leaves, picked
½ bunch Vietnamese Mint, leaves picked
Nuoc Cham:
60ml fish sauce
60ml rice wine vinegar
2 Tbsp caster sugar
2 Tbsp lime juice
2 Birdseye chillies, finely sliced
2 cloves garlic, grated
In a large bowl, combine the pork, mushrooms, noodles, garlic, egg and seasonings and mix well to combine.
Prepare the spring rolls by dipping a rice paper wrapper in cold water to soften slightly and lay it out onto a clean work bench. Place about 2 Tbsp of pork mixture on the bottom third of the wrapper, fold the bottom half over the mixture, fold the sides into the centre and roll up to enclose the filling. Set aside and continue with remaining wrappers and filling.
Place all Nuoc Cham ingredients in a bowl and gently whisk to combine, taste and adjust seasoning if necessary. Set aside until required.
Heat fryer to 180C. Fry the spring rolls in batches for 5-8 minutes or until the outer skin is glassy, blistered and golden in parts. Drain off excess oil, transfer to a wire rack to cool and season with salt. Repeat with remaining spring rolls. Cut in half to serve. *Do not overcrowd the fryer as the spring rolls easily stick together.
To assemble, place a perilla leaf and some Vietnamese mint inside the cup of a lettuce leaf and top with a spring roll, enclose and dip into the Nuoc Cham. Serve fresh.
Our friends at Wine Selectors suggest pairing this dish with a Riesling.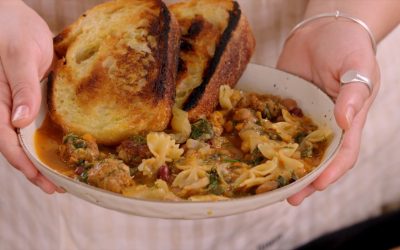 Ingredients: 4 Spicy Italian Sausages Packet of Farfalle Pasta 1 Leek 1 Carrot 1 Onion 2 Garlic 2 cups Shredded Cabbage 1 Chopped Silver Beet 1 400gm Tinned Beans 1 tsp Cumin powder 1 tsp Coriander  powder 1tsp Paprika powder 2 tbsp Tomato Paste Stock of your choice...