1 Tbsp cumin seeds
1 Tbsp coriander seeds
2 Tbsp toasted sesame seeds
2 Tbsp sumac
1 tsp paprika
2 Tbsp dried oregano
1 Tbsp dried thyme
1 tsp sea salt
¼ tsp cracked pepper
Dry roast the cumin and coriander seeds over a low-medium heat until toasted and fragrant. Transfer to a mortar and pestle or spice grinder and grind into a powder.
Transfer to a bowl along with remaining ingredients, mix to combine well and season to taste.
Keep in an air-tight jar for up to about 1 month.
Notes:
Zataar is very versatile, and variations are endless.
Use Zataar in salads, on roasted meat or vegetables, as part of a mezze/cheese platter with olive oil and crusty bread, added to labneh or hummus and serve with pita bread or crudites, or mix with a bit of oil and spread over toasted flatbreads.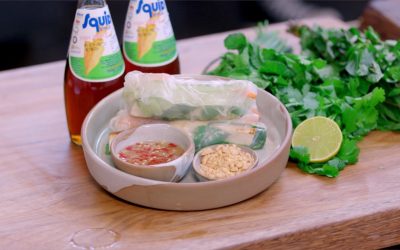 This recipe is brought to you by our friends at Asian InspirationsIngredients:Serves: 8 Prep Time: 10 mins Cook Time: 15 mins Main Ingredients: 1 packet rice paper 150g rice vermicelli noodles 1 bunch coriander 1 bunch Thai basil 1 bunch mint 1 bunch garlic chives 1⁄4...