Anchovy Toast
Madeline Campbell
Good quality white anchovies
Good quality sourdough cut into thick slices
Cashew Cream:
2 cups of raw natural cashews
1 1/2 cups water
1 garlic clove
Large pinch of salt
Juice of 1 lemon juice
Green Sauce:
Half a bunch of parsley
1 garlic clove
Juice and rind of 1 lemon
Large pinch of salt
1/2 cup EVOO
Add the cashews, water, garlic, salt and lemon in a blender and blitz till smooth. Slowly add small amounts of water until you achieve desired consistency. You want this to be creamy but not runny. Once smooth, move to a container and refrigerate.
To make the green sauce, add all the ingredients to the blender and blitz. This sauce should have a nice zingy freshness to it.
Slice your bread and toast on a pan or in a sandwich press with a generous amount of oil until golden and crispy. Once your toast is cooked, spread approximately a tablespoon of cashew cream on the toast, 1 – 2 white anchovies and 3 dollops of green sauce and voilà, Theo's anchovy toast!
For a vegan versions: Use assorted pitted olives instead of anchovies
Extra cashew cream and green sauce can be used in many other dishes eg. dips, snack, wraps
Our friends at Wine Selectors suggest pairing this dish with a Rose.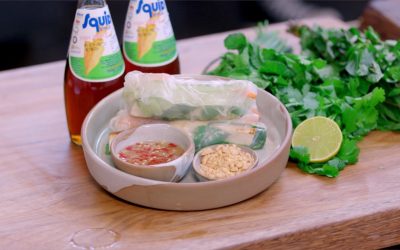 This recipe is brought to you by our friends at Asian InspirationsIngredients:Serves: 8 Prep Time: 10 mins Cook Time: 15 mins Main Ingredients: 1 packet rice paper 150g rice vermicelli noodles 1 bunch coriander 1 bunch Thai basil 1 bunch mint 1 bunch garlic chives 1⁄4...