Baked Salmon Tahini 3 Ways
Naheda Hassan
200g Salmon with skin
1 Cos lettuce firm
Olive oil
Salt
Garlic crushed ( approx 1 bulb )
Lemon x3
200g White Tahini (100g for each)
100g Black Tahini
½ bunch parsley
½ tsp Paprika
Place salmon, skin side up. Drizzle with oil – rub salt on skin
Heat a medium, non stick frying pan over medium heat. Add salmon, skin side down. Cook for 4-5 minutes or until skin is crisp. Turn and cook until just cooked through, or as desired
Cut cos lettuce in half longways, brush flat side with olive oil.
Sear in pan faced down with desired tahini dip
Tahini Dip:
In a food processor or a bowl , combine tahini, lemon juice and garlic. Mix while adding the water as you are combining the ingredients, to desired texture.
Remove from processor if using one and scoop into separate small bowls and add paprika for red tahini, finley minced parsley for green tahini or any desired flavour.
Serve immediately, or store Tahini in refrigerator for upto a week in an airtight container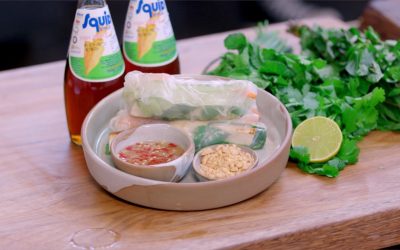 This recipe is brought to you by our friends at Asian InspirationsIngredients:Serves: 8 Prep Time: 10 mins Cook Time: 15 mins Main Ingredients: 1 packet rice paper 150g rice vermicelli noodles 1 bunch coriander 1 bunch Thai basil 1 bunch mint 1 bunch garlic chives 1⁄4...