BBQ Lamb Cutlets with a Cannellini Bean, Tarragon and Pea Cress Salad
Tobie Puttock
Serves: 4
12 lamb cutlets
Small handful freshly picked rosemary
1 ½ cups drained cannellini beans (tinned are fine)
¼ cup freshly picked tarragon
½ cup flat leaf parsley, roughly chopped
1 small Spanish onion, peeled and finely sliced
1 cup blanched peas
Juice of 1 large lemon
Extra virgin olive oil
Sea salt and cracked pepper
Good handful of pea cress (optional)
Preheat the BBQ or grill plate to a medium/ high heat.
Pop the cutlets and the rosemary into a mixing bowl with a pinch of salt, pepper, a splash of extra virgin olive oil and a squeeze of lemon juice and toss to combine. Allow the cutlets to marinate for around 20 minutes. Place onto the grill or BBQ for 3 minutes each side, remove to a plate and allow to rest.
While the lamb is resting, bring together the drained cannellini beans, tarragon, sliced Spanish onion, peas, lemon juice, a good splash of extra virgin olive oil along with a pinch of sea salt and cracked pepper and gently toss to combine.
Arrange the rested lamb on a plate with the dressed bean salad and some pea cress scattered around the plate.
Our friends at Wine Selectors suggest pairing this dish with a Sauvignon Blanc.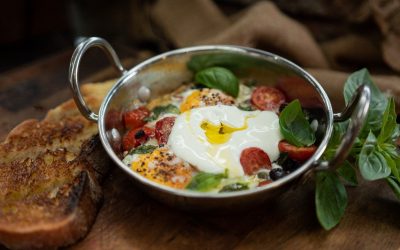 Ingredients: 9 cherry tomatoes, halved 1 small garlic clove, thinly sliced 2 tsp good-quality olive oil 1 tsp balsamic vinegar 5 basil leaves, torn, plus a few extra to serve if you like 5 pitted olives, sliced 2 large free-range egg 1 tsp small capers, rinsed salt...