BBQ Quail with Pancetta and Sage
Tobie Puttock
Recipe brought to you with the help of our friends at Wine Selectors
Serves: 4
Four quails
2 cloves of garlic, peeled and finely chopped
6-8  leaves of sage, finely chopped
Sea salt and cracked pepper
8 strips smoky pancetta
Olive oil
Lemon halves for serving
Lentils and salsa verde for serving
Preheat a BBQ or grill pan to medium/ high.
Combine the chopped sage and garlic in a mixing bowl.
Remove the spine using kitchen scissors or a sharp knife and flatten the birds using your hand. Lay them out on a chopping board and cover with the sage and garlic mixture using your hands to rub the mixture in with your hands. Leave to marinate for 20 minutes. Wrap two pieces of pancetta around each quail.
Brush the quails with a little olive oil and cook on the preheated BBQ for 6-7 minutes each side (depending on size). Once cooked, allow to rest for 5 minutes.
I love to serve these with lentils and salsa verde.
Our friends at Wine Selectors suggest pairing this dish with a Shiraz Pinot Noir Blend.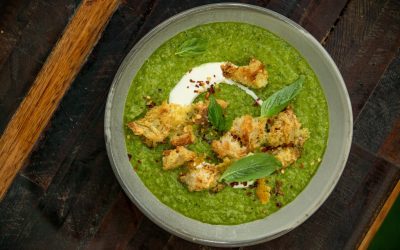 Ingredients: 2 heads broccoli 1 large leek, halved lengthwise, rinsed 2 tbsp extra virgin olive oil 1 head garlic, unpeeled 4 cups (1L) chicken or vegetable stock 120g baby spinach leaves 125g sour cream, plus extra to serve Chilli flakes & herbs, such as basil,...