Black Eyed Peas with Spinach
Kathy Tsaples
2 cups of black-eyed beans

1 bunch of English spinach (or baby spinach, if preferred),

Roughly chopped and thoroughly washed

6 spring onions, finely chopped

1 onion, sliced

1/2 cup of olive oil

1 tbsp white wine vinegar

juice of 1 lemon

a few sprigs of dill, chopped

1 tsp cooking salt pepper
In a sieve, wash your beans thoroughly and then throw them into a pan filled with cold water. Bring to a boil and discard the water. Rinse the beans again.

Fill the pot with cold water again and cook the beans for about 30 minutes. Always check them because they don't take long and can easily become mushy.

In a shallow pan, sauté the onion in about half a cup of olive oil until translucent. Add the spring onions, then the washed spinach, salt and pepper.

Put the cooked beans in a bowl, add the wilted spinach and mix using two forks so that you don't mush them up.

Add the lemon juice, vinegar and dill.

At this stage, add another half cup of olive oil. Have a taste, and add more lemon juice if desired. Serve with crusty bread and feta cheese.
Our friends at Wine Selectors suggest pairing this dish with a Merlot.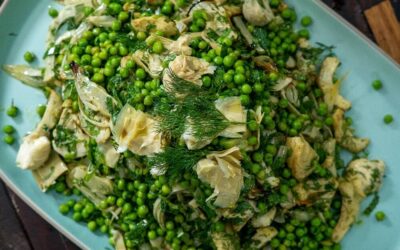 Ingredients: 500g fresh broad beans, in their pods 3–4 small fennel bulbs 250g frozen peas, thawed and rinsed 1 red onion, finely sliced 1 cup dill, finely chopped 1⁄2 bunch mint, finely chopped, plus extra whole leaves to garnish 1⁄2 bunch flat-leaf parsley, finely...