Chicken Pea and Corn Risotto
Simone Austin
1 tablespoon extra virgin olive oil
1 brown onion, cut and finely chopped
2 cloves garlic, chopped
250g arborio risotto rice
100ml white wine
1 litre chicken stock
300g chicken breast or thigh fillets cubed
200g frozen or fresh peas
1 can 425g corn, drained
¼ cup grated parmesan cheese
Freshly ground black pepper
4 scoops Ensure Vanilla powder
Heat oil in pan and brown the chopped chicken until brown. Remove and set aside.
Fry the onion until soft and beginning to brown, add garlic and fry for 1 minute
Add the rice to the pan and stir for 40 seconds until the oil has coated the rice
Pour in half the wine and allow to bubble for 30 seconds, then add the stock and bring to the boil, stirring well. Simmer uncovered for 10 minutes stirring regularly until the rice is tender.
Stir in the rest of the wine, add the chicken, peas and corn. Cook for another 5 minutes until rice is tender and vegetables heated through. Mix the Ensure powder with a little water in a cup to make a runny paste. Stir in the cheese and Ensure powder and a further minute. Turn off the heat. Place a lid on and sit for 5 minutes before serving.
For more details on Ensure, go to ensure.com.au
Risotto is a good meal you can prepare in advance. You can swap in different vegetables and add more on the side to go with it. The carbohydrate from the rice is a good energy boost for those who need it.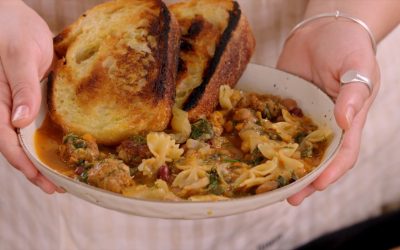 Ingredients: 4 Spicy Italian Sausages Packet of Farfalle Pasta 1 Leek 1 Carrot 1 Onion 2 Garlic 2 cups Shredded Cabbage 1 Chopped Silver Beet 1 400gm Tinned Beans 1 tsp Cumin powder 1 tsp Coriander  powder 1tsp Paprika powder 2 tbsp Tomato Paste Stock of your choice...