Chilli Sauce
Ben O'Donoghue
Makes 500ml
1 tablespoon vegetable oil
1 small onion, chopped
2 garlic cloves, chopped
1 cup chopped carrot
10 habanero or carolina reaper chillies
60 ml (1⁄4 cup) lime juice
60 ml (1⁄4 cup) white vinegar
1 teaspoon English mustard
1 teaspoon salt
250 ml (1 cup) water
Heat the oil in a fryinag pan over low heat. Gently sauté the onion and carrots and garlic until soft but not coloured.
Add the water and cover, simmer until the carrot and onions are soft.
Place the mixture in a blender and add the lime juice, vinegar, mustard and salt. Don't worry if you think the mixture is too watery — it needs to have a bit of liquid.
Blend until smooth. This sauce will keep for several months in a clean, airtight container.
For chef quality results, we recommend using Anolon cookware!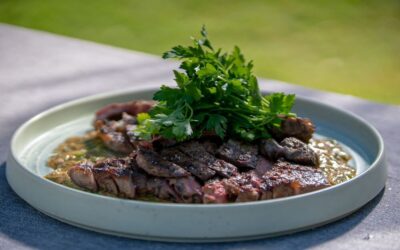 Ingredients: Serves: 2-4 2 x 250g T-bone or Rump steak Sea salt 2 Tbsp Olive oil 2 Tbsp Butter 1 brown onion, diced 2-3 cloves garlic, finely chopped 1 tsp dried chilli flakes 2 tsp dried mixed herbs 40 'twists' cracked black pepper 2 chicken stock cubes, crumbled 2-3...