Confit Garlic
Elena Duggan
500g-1kg EVOO
3 heads Australian Garlic
20 Black peppercorns
1 Thyme stalk
1 Rosemary stalk
3 Bay leaves
Slice roots of garlic heads, keeping as much flesh in tact as possible.
In a small to medium saucepan or a baking dish, submerge all ingredients in the olive oil.
On the stove top you want to maintain the gentlest of simmers, no bubbles.
In the oven the temperature can be between 70-90degress Celsius.
Cooking will require at least one hour, but can be cooked for up to three hours if on very low.
Allow confit ingredients to cool, and then place all in an airtight jar and use as you wish from the fridge for up to two months.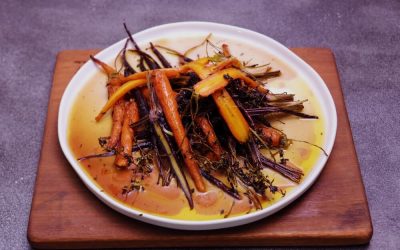 Join Elena Duggan as she creates her Honey Herbed Carrots recipe. Tune in to The Market kitchen each weekday on Channel 10.