Crab and Zucchini Pasta
Mike Reid
Recipe brought to you with the help of our friends at Velisha Farms
350g fresh spaghetti
600g zucchini, cut into ribbons using a vegetable peeler
2 tbsp olive oil
2 garlic cloves, finely chopped
240g spider crab meat, cooked and picked
1/2 unwaxed lemon, finely grated zest and juice
2 tbsp dill
Salt and freshly ground black pepper
4 tbsp freshly grated Parmesan, to serve
Bring a large pan of salted water to the boil. Cook the pasta for 8 minutes, or until al dente.
Place the zucchini in a steamer or colander and sit above the pan of pasta. Cover and steam for 1–2 minutes, or until tender.
Drain the pasta, retaining a little of the cooking water, and tip into a large bowl.
Pour the oil into the pasta pan over a low heat. Add the garlic and cook briefly, to flavour the oil. Pour the oil over the pasta.
Toss the pasta with the crab, lemon zest and juice, dill and courgettes. Serve topping each portion with 1 tablespoon Parmesan and a grind of pepper.
Our friends at Wine Selectors suggest pairing this dish with a Shiraz.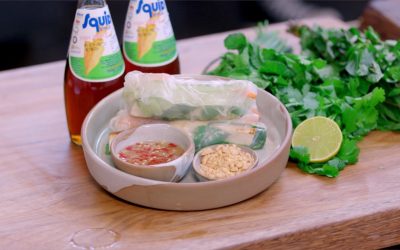 This recipe is brought to you by our friends at Asian InspirationsIngredients:Serves: 8 Prep Time: 10 mins Cook Time: 15 mins Main Ingredients: 1 packet rice paper 150g rice vermicelli noodles 1 bunch coriander 1 bunch Thai basil 1 bunch mint 1 bunch garlic chives 1⁄4...