Creamy Tarragon Chicken
Jacob Leung
Serves: 4
2 tablespoon olive oil
3 garlic cloves, crushed
500g chicken breast, whole
1 brown onion, finely diced
1 cup dry white wine
1 cup cream
2 tablespoons tarragon, coarsely chopped
1 teaspoon cornflour
serve with steamed rice and blanched broccolini
Fresh tarragon, to serve
Place a large frypan over a medium heat. Add 1 tablespoon of olive oil, the garlic and onion and sauté until the onion is soft. Once the onion is softened, remove from the pan and wipe out with a paper towel. Add the remaining tablespoon of olive oil to the pan and sear the chicken on each side until golden.
Add the wine to the pan and cook until it has reduced by half. Stir in the cream and chopped tarragon. Cover and gently simmer for 15 minutes.
In a small bowl mix the cornflour with a ¼ cup water. Add to the pan and stir until the sauce thickens.
Meanwhile, blanch the broccolini by plunging into boiling water for about 2 minutes.
Serve with steamed rice as per the packet instructions. Top with fresh tarragon leaves.
Our friends at Wine Selectors suggest pairing this dish with a Chardonnay.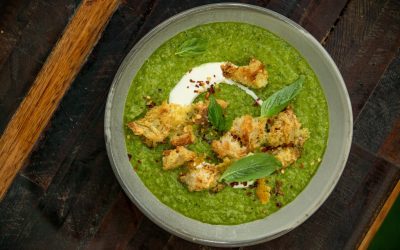 Ingredients: 2 heads broccoli 1 large leek, halved lengthwise, rinsed 2 tbsp extra virgin olive oil 1 head garlic, unpeeled 4 cups (1L) chicken or vegetable stock 120g baby spinach leaves 125g sour cream, plus extra to serve Chilli flakes & herbs, such as basil,...