Crispy Fried Eggs with XO and Lap Cheong
Matt Sinclair
Serves: 2-4
1 cup Vegetable oil
4 eggs
3 lap cheong sausages, thinly sliced
2 Tbsp XO Sauce
100gm cherry tomatoes, halved
½ red onion, thinly sliced
1 green chilli, thinly sliced
½ cup coriander, roughly chopped
Heat oil in a wok over a medium-high heat until it shimmers. Carefully cook one egg at a time by carefully cracking each egg into the oil in the middle of the wok. Use a wok shovel or spoon to ladle the oil over the whites of the egg until the edges are golden and crispy, about a minute or so. Remove with a slotted spoon and transfer to a plate lined with a paper towel. Repeat with remaining eggs.
Remove the excess oil from the wok and return to a medium-high heat. Add the lap cheong and tomatoes and stir fry, moving constantly for about 1-2 minutes.
To serve, place the eggs in a shallow serving bowl or platter and scatter the lap cheong and tomatoes over the top. Spoon over the XO sauce and garnish with sliced red onion, chilli and coriander. Serve immediately.
Our friends at Wine Selectors suggest pairing this dish with a Pinot Gris.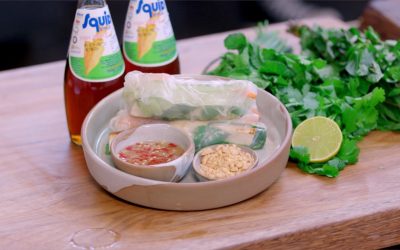 This recipe is brought to you by our friends at Asian InspirationsIngredients:Serves: 8 Prep Time: 10 mins Cook Time: 15 mins Main Ingredients: 1 packet rice paper 150g rice vermicelli noodles 1 bunch coriander 1 bunch Thai basil 1 bunch mint 1 bunch garlic chives 1⁄4...