Crispy Pork Salad
Ben O'Donoghue
1kg Pork belly all bones removed
Light soy sauce
1 tbsp Coconut oil
1lt vegetable oil
¼ cup Fried shallots (available for Asian stores)
Sliced fresh red chilies
Caramel
100gm Palm sugar
50ml Fish sauce
50ml Oyster sauce
Paste
3 coriander roots
Salt
4 garlic cloves
1tsp white peppercorns
1 star anise, roasted and ground
Cucumber salad
Cucumber
Red onion
½ bunch Mint leaves picked
1 Coriander leaves picked
Dressing
1 garlic clove
Pinch of Salt
2 birds eyes chillies
1.5 Tbsp lime juice
1Tbsp fish sauce
Pinch of white sugar
Rub pork belly in soy sauce, cover and marinate overnight
Steam pork belly for 1 hour until soft in a bamboo steamer. Cut into small squares around 3cm by 3cm.
Make your paste by combining everything in a food processor and blend until a paste is formed. Add a little water if it's too dry to blend. Set aside.
Make caramel by melting Palm sugar with a little water. Bring to the boil and dissolve the sugar and cook for about 5 minutes then remove from the heat and add oyster and fish sauces. Set aside.
Make dressing by blending in a food processor or jug blender and set aside.
Cut cucumber length ways and remove seeds. Cut into thin slices on an angle. Peel and slice red onion as fine as you can. Make a salad with the herbs, cucumber, onions and dressing and arrange ½ on a plate/platter.
In a wok heat the vegetable oil Deep fry pork squares until crispy, then drain well on paper towel.
In a nonstick pan heat some oil/coconut oil and fry off paste until fragrant. Add the caramel to this and bring to the boil then place the pork in, the pork only needs to be coated as if it stays in the caramel too long it will lose its crispness.
Scatter the pork over the salad and then the remaining salad over the pork sprinkle with fried shallots and sliced chilli.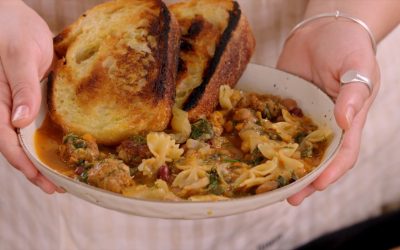 Ingredients: 4 Spicy Italian Sausages Packet of Farfalle Pasta 1 Leek 1 Carrot 1 Onion 2 Garlic 2 cups Shredded Cabbage 1 Chopped Silver Beet 1 400gm Tinned Beans 1 tsp Cumin powder 1 tsp Coriander  powder 1tsp Paprika powder 2 tbsp Tomato Paste Stock of your choice...