Drunken cheeky beef
Jacob Leung
Serves: 4
1 carrot, diced
1 brown onion, chopped
2 celery sticks, chopped
1 cup red wine
375ml Guinness beer
1 garlic bulb, halved horizontally
3 bay leaves
8 sprigs of thyme
2 anchovies, tinned
150g pickled onions
1kg beef cheeks
litre chicken stock
1 cup polenta
30g butter
½ cup parmesan, grated
In a slow cooker add the carrot, brown onion, celery, red wine, Guinness, garlic, bay leaves, thyme, anchovies and pickled onions. Nestle the beef cheeks into the slow cooker ensuring each piece is half submerged. Season well with salt and pepper and slow cook on low for a minimum of 6 hours.
To prepare the polenta, place a large pot over a medium to high heat. Bring the stock to the boil. Add the polenta in a steady stream to the pot whilst constantly stirring with a wooden spoon.
Once all the polenta is added, reduce to a low heat and cook for 15 minutes. Continue to stir every few minutes ensuring the polenta doesn't stick to the bottom of the pot. Once the polenta is soft and no longer grainy, stir in the butter and parmesan.
Serve the polenta in warmed bowls and top with the slow cooked beef cheeks.
Don't have a slow cooker? No stress! Follow the method exactly the same but bake the beef in a covered casserole dish on 140°C, 120°C for fan-forced, for a minimum of 5 hours.
Our friends at Wine Selectors suggest pairing this dish with a Shiraz.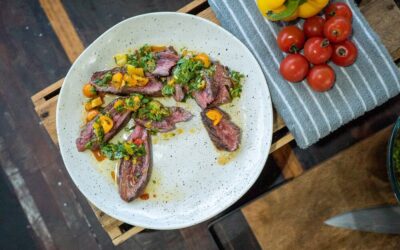 Ingredients: Serves: 4 800g Hanger Steak Sea Salt 1 small yellow pepper, seeds removed, roughly chopped 6 Yellow baby Tomatoes 1 small red chilli, seeds removed ½ tsp dried flaked chillies 2 Garlic cloves, peeled 20g fresh parsley, including any tender stalks 10g each...