Easy Peasy Muffins
Ben O'Donoghue
Makes 6 – 8 large muffins depending on amount of filling
500gm flour
500ml milk
2 eggs
20gm Baking powder
1 cup veg oil
Equipment
1 x Large 6 Muffin tray
Baking paper cut into 15x15cm square and cut from point ¾ into the center to make a windmill kind of shape
Oil spray
Savory Muffins
1 good handful Spinach
6 Egg
1 large Tomato
120g Feta large dice
Loose cup of basil leaves
Sweet Muffins
6 ripe figs
200g ricotta
Honey
1 cup flaked almonds
Combine all the dry ingredients in a large bowl
Combine the wet ingredients and whisk together
Slowly mix the wet ingredients into the dry until combined and evenly mixed
Savoury Muffins
For the Savory muffins fold in the chopped spinach, diced tomato (chunks) and feta. Spray the muffin tins with cooking spray oil and line the mould with the cut squares of baking paper.
Place half the mixture into the mould, crack the egg onto the muffin mix then top with more. Bake at 170 degrees for 45 minutes
Sweet Muffins
For the Sweet muffins, cut the figs into quarters and keep 6 pieces for the tops of the muffins
Dice the remaining figs and Fold in with the remaining ingredients and ¾ of the flaked almonds drizzle with as much honey as you like and divide between the moulds place a piece of fig on top of each scatter with the remaining almonds and drizzle with more honey and bake at 170 degrees for 45 minutes.
For chef quality results, we recommend using Anolon cookware!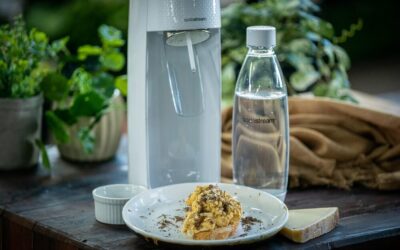 Ingredients: Serves 4 12 eggs, best quality you can afford 150ml sparkling water 2 tablespoons freshly grated parmesan Sea salt and freshly cracked pepper 20g butter 4 thick slices of sourdough, toasted/charred Method: Mix together the eggs, sparkling water, parmesan...