Fermented Chilli Hot Sauce
Mandy Hall
10 large fresh Red Chillies (see notes)
4 Garlic cloves peeled
1 medium-sized red onion sliced
2 slices of fresh ginger (optional)
1 dried date or 1 TB raw sugar
Approx 2 cups of filtered cool water
Sea Salt – 2% of the total weight of ingredients, including the water

If total ingredients weigh 500g – 500g x 2% =10g salt (see notes)

1 TB – white wine vinegar or apple cider vinegar for post-fermentation
Apple weight option – 1/2 apple slice horizontally through the middle.
Make sure your jar and lid are washed, clean and dry.
Dissolve salt into the water and set aside
Remove then stem from the chilli and discard to compost.
Depending on how hot you like your sauce, you can place the whole chilli into the fermenting jar, or you can slice & remove the veins & seeds (the hot parts) and place leftover chilli into the jar. Add all other ingredients, including water, leaving at least one-inch headroom from the top.  Ensure that all ingredients are kept underneath the saltwater brine by weighing down with a half apple or suitable weight.  Lid your jar with either an airlock lid or a sturdy jar lid.
Place your chilli ferment in a cool spot at room temp & out of direct sunlight; fermentation will begin, and you should start to see some activity within two days; after day 2, please burp the jar each day. You can prepare the sauce from day five onwards, but two weeks is ideal. Once ready (anywhere from 7 days to 21 days), discard the apple or remove the weight.
Strain the jar contents & keep the liquid/brine; put all ingredients into a food processor or blender and blend at high speed, add brine back into the processor until you achieve the desired consistency, add the 1 TB of vinegar, blend for an additional 15 -30 seconds. Pour into a very clean bottle or jar and store in the fridge for up to 3 months if it lasts that long!
Notes:
Choose a chilli with a heat level that you are comfortable with, if the chilli is very hot, the hot sauce will be too.
Make sure all of the equipment has been washed and is clean and dry before use. Make sure the jar is a good strong glass jar.
Salt – please use natural sea salt.
This chilli sauce is an anaerobic ferment – we want to keep the oxygen out; airlocks are the perfect way to do this. Airlocks stop oxygen from getting in but allow any gases to escape. Alternatively, a lidded jar also works very well; you will need to gently "burp" the jar each day after day 2  in this case.
Our friends at Wine Selectors suggest pairing this dish with a Off-dry Rose'.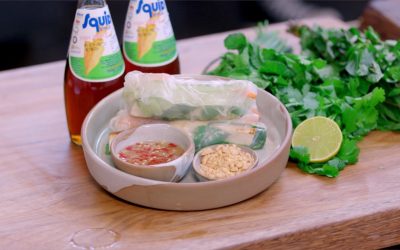 This recipe is brought to you by our friends at Asian InspirationsIngredients:Serves: 8 Prep Time: 10 mins Cook Time: 15 mins Main Ingredients: 1 packet rice paper 150g rice vermicelli noodles 1 bunch coriander 1 bunch Thai basil 1 bunch mint 1 bunch garlic chives 1⁄4...