Fillet Steak Salad, Iceburg, Watercress and Parmesan
Mike Reid
Recipe brought to you with the help of our friends at Velisha Farms
200g Fillet Steak, cooked on a bbq or pan to your liking.
50g peas
50g small broad beans
1 spring onions, thinly sliced
Small handful fresh mint leaves, finely chopped
Small handful fresh dill, finely chopped
30g watercress, roughly chopped
15ml lemon juice
15ml Early harvest olive oil
15g grated Parmesan fresh
½ head of iceberg lettuce
Lemon and Garlic Herb Sauce:
20ml mayonnaise
20ml natural yoghurt
3g confit garlic puree
15g fresh parsley leaves, finely chopped
15ml Olive Oil
To make the spring salad, bring a small pan of water to the boil, add the peas and broad beans and cook for 3 minutes, then drain. Toss the spring onions, herbs, watercress,shredded iceberg lettuce, lemon juice and olive oil together in a salad bowl, then toss in the drained warm peas and beans.
Carve your rested steak and place your warm salad on a plate. Drizzle the sauce on top before adding your carved steak on top. Finish with a touch of sea salt
Our friends at Wine Selectors suggest pairing this dish with a Sangiovese.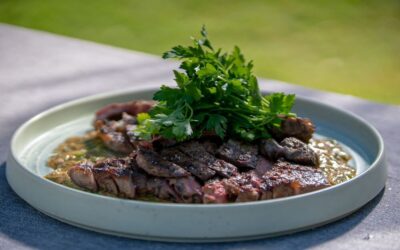 Ingredients: Serves: 2-4 2 x 250g T-bone or Rump steak Sea salt 2 Tbsp Olive oil 2 Tbsp Butter 1 brown onion, diced 2-3 cloves garlic, finely chopped 1 tsp dried chilli flakes 2 tsp dried mixed herbs 40 'twists' cracked black pepper 2 chicken stock cubes, crumbled 2-3...