Garlic Crusted Chicken and Witlof Salad
Khanh Ong
2 slices of crusty whole-grain bread
2 large cloves of garlic
The zest of 1 lemon
A pinch of salt
EVOO
300g chicken breast
Witlof Salad:
1 green and 1 purple witlof
1⁄2 a cup of frize leaves
2 figs
juice of 1 lemon
1 tbsp
EVOO
2 tsp honey
a pinch of salt
In a food processor blitz bread, garlic, lemon zest and salt until a fine crumbie texture.
On a large piece of baking paper splash a nice lash of EVOO place chicken breast in the centre, fold over baking paper and pound chicken until flat even about 1cm
Cover one side with crumb, then the other side.
In a large pan on high add 1 tbsp of EVOO and fry pieces of chicken for 3-5 minutes on each side.
Flip for a further 2-4 minutes.
Set aside to rest.
Chop into strips.
Witlof Salad:
Break of all the witlof leaves and place in a mixing bowl.
Cut the figs into 6ths and toss them into the bowl
In a small bowl combine lemon juice, EVOO, honey and salt.
Dress salad with dressing.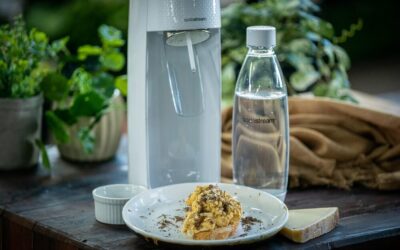 Ingredients: Serves 4 12 eggs, best quality you can afford 150ml sparkling water 2 tablespoons freshly grated parmesan Sea salt and freshly cracked pepper 20g butter 4 thick slices of sourdough, toasted/charred Method: Mix together the eggs, sparkling water, parmesan...