Grilled Peach, Burrata and Proscuitto Salad
Laura Sharrad
Serves: 6-8 People
3 peaches, halved
1 Burrata
12 slices prosciutto
1 whole red radicchio, quartered and core removed
100g baby rocket leaves
100g mixed lettuce leaves
To Serve:
Extra virgin olive oil
Sticky fig glaze
Salt flakes
Chilli flakes
Heat your bbq or griddle pan to high. Lightly oil the cut side of your peaches and grill until dark and caramelised.  Cool and cut in half again
Arrange the salad leaves in your bowl, with the peaches and prosciutto slices too.
Dress with oil & the glaze and top with the burrata and some chilli flakes
Our friends at Wine Selectors suggest pairing this dish with an Arneis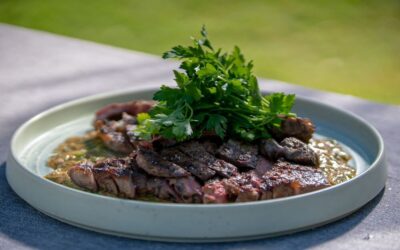 Ingredients: Serves: 2-4 2 x 250g T-bone or Rump steak Sea salt 2 Tbsp Olive oil 2 Tbsp Butter 1 brown onion, diced 2-3 cloves garlic, finely chopped 1 tsp dried chilli flakes 2 tsp dried mixed herbs 40 'twists' cracked black pepper 2 chicken stock cubes, crumbled 2-3...