Grilled Pork Chop with Apple Sauce
Ben O'Donoghue
4 thick pork loin chops skin off
4 cloves garlic, roughly chopped
1 stick of rosemary, leaves picked and roughly chopped
4 fresh bay leaves, roughly chopped
1/4 cup balsamic vinegar
1/4 cup olive oil
1 teaspoon fresh cracked black pepper
Flaky salt
Apple Sauce
4 Red Apples cored and cut into 8th (keep the skin on)
1 tablespoon Apple cider vinegar
1 tablespoon Sugar
1 Star anise
Salt
To make the marinade, combine the garlic, rosemary, bay leaf, balsamic and oil in a bowl. Score the fat of the pork loin with a sharp knife in a crisscross fashion; season with the black pepper. Place the pork in a non-reactive tray and pour the marinade over the pork, cover and allow to stand for 1 hour, turning two or three times.
Prepare your Barbeque for direct grilling at a medium high heat turning all of your gas burners on.
Remove the pork chops from the marinade, reserving the marinade in a small saucepan place the remaining marinade over a medium heat and boil until it reduces by half; set aside.
Place the chops on the grill plate of the barbecue allowing the fat to caramelize and blacken slightly, creating a grill marked pattern allow to cook on one side for 6 minutes then turn and grill for a further 4-5 minutes with the lid down. once cooked remove and rest
Baste the pork with the reduced marinade.
Once cooked the meat should be medium well with a touch of pink in the centre
Serve with the apple sauce and garnish with the bay and rosemary in the marinade sauce.
Apple Sauce
Place all together in a pot and simmer covered until it breaks up then pass through a food mill or roughly pulse in a food processor then return to the heat and reduce to thicken.
Season with salt
Our friends at Wine Selectors suggest pairing this dish with a Red Symphony Hill Reserve Shiraz or White Ballandean Fiono 2019
For chef quality results, we recommend using Anolon cookware!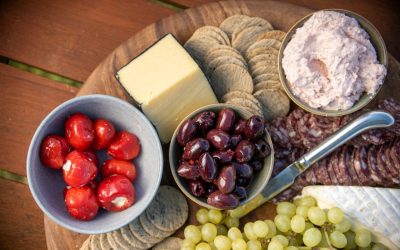 Ingredients: Hard Cheese Soft Cheese Blue Cheese 1 baguette  A bunch of Green Grapes Honeycomb Salami (sliced) Smoked Salmon Dip Artisan Crackers Beetroot dip Poppy Seed Skordalia Dip Dukkah Stuffed Bell Peppers Marinated Olives (pitted) Method: There are no rules or...