500gm Pork belly or shoulder mince
¼ Wombok/cabbage, finely shredded
3 Spring onions finely chopped
1 tablespoon Garlic, minced
1 tablespoon Fresh ginger, minced
2 teaspoons Soy sauce
4 tablespoons roasted Sesame oil
½ teaspoon freshly ground black pepper
2 teaspoons caster sugar
2 tablespoons potato starch plus extra for dusting and gluing
50 gyoza 60-80mm diameter Wrappers
Dipping Sauce
4 tablespoons Soy
2 tablespoons Rice vinegar
1 tablespoon chilli oil
Combine the shredded cabbage and the salt in a bowl, allow to stand for 30mins so that flavours can develop and then squeeze out the liquid that has developed.
Place the wrung out cabbage in a bowl and mix in the spring onion, garlic, ginger, pork, soy and potato starch. Using your hands squish the mixture together well until it turns into a sticky mixture.
Dust a tray with a fine sprinkling of potato starch. Mix a small mount of potato starch with water in a bowl. Place the a gyoza skin floured side down (they usually come floured on one side) using the tip of your finger dipped in the flour water mixture wet the edges of the gyoza wrapper.
Place a tablespoon of mixture into the centre of a wrapper. Using your index finger and thumb of both hands fold the wrapper Pinch together The aim is to keep the back flat and pinch to create pleats and seal at the front. Place standing up on a tray, it's important the base is flat for cooking and freeze if you're freezing to use later.
When cooking heat a non stick pan, I find an electric fry pan with a lid works best.
Use high heat and place some vegetable oil in the pan, place gyoza in allow to colour on the bottom. Place a cup of water into the pan and place lid on and turn heat down to medium. They should take about 6 minutes.
Serve with a dipping sauce.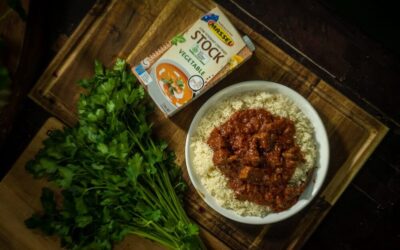 Ingredients: 1 1⁄2 kg round steak, cleaned and cut into cubes 3 cans of roma tomatoes, crushed by hand 1 onion, finely diced 2-3 cloves of garlic 1⁄2 cup of olive oil, plus an additional 2 tbsp 1tbsp red wine vinegar 1L water or chicken stock (optional) 1tbsp tomato...