Hand Rolled Cavatelli with Slow Cooked Rabbit
Joseph Vargetto
Serves 4
Hand Rolled Cavatelli
350g semolina
100g tipo 00 flour3 eggs large
50ml water
20ml extra-virgin olive oil
Extra flour for rolling
Sauce
1 rabbit cut into smallish pieces,
½ cup green olives,
½ cup capers,
4 cloves garlic,
2tsp pine nuts
2tsp currents
5 mint leaves
1 bay leaves
1 glass of white wine mixed with ½ cup of red wine vinegar
½ cup extra virgin oil
Salt and pepper to taste
200gr ricotta salata grated
Hand Rolled Cavatelli
For the cavatelli dough, knead the ingredients together until a smooth ball forms. Cut the dough into 4 pieces and roll out each into a flat disk. Then slice into 2cm strips and cut into the size of Cavatelli you prefer, around 2-5cm each. Press each out on a mini washboard or fork.
Sauce
In a large frying pan sauté the rabbit in the hot extra virgin olive oil until golden.
Add the seasoning, olives, garlic, capers and mint.
Reduce the heat and add the mixture of wine and vinegar gradually while the rabbit is cooking.
If it is a tender rabbit and if it is cut into small enough pieces, the rabbit may be cooked by the time all of the liquid has evaporated. If the rabbit is not as young or as tender as you had hoped, and you feel that it needs to be cooked for longer (this has always been my experience), add a little water, cover with a lid and simmer it gently until it is soft – keep on adding the wine and vinegar.
Remove the lid and evaporate the juices. Ensure that the rabbit is that deep golden brown colour when you serve it.
Gently simmer the cavatelli pasta in salted water for 15 minutes, drain and add to rabbit sauce. Add some ricotta salata (or parmesan) stir and serve.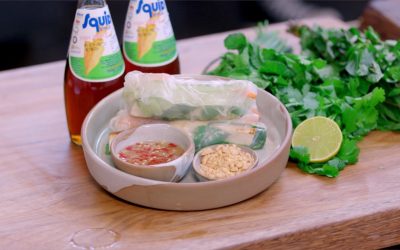 This recipe is brought to you by our friends at Asian InspirationsIngredients:Serves: 8 Prep Time: 10 mins Cook Time: 15 mins Main Ingredients: 1 packet rice paper 150g rice vermicelli noodles 1 bunch coriander 1 bunch Thai basil 1 bunch mint 1 bunch garlic chives 1⁄4...