Honey Herbed Carrots
Elena Duggan
1kg Mixed heirloom baby carrots, 1-2cm stalk remaining, thoroughly washed
15-25g Thyme, and lemon thyme sprigs
100g Honey
50g EVOO, additional if desired
Black pepper, ground to taste
Salt, to taste
Optional dressing:
Preheat fan-forced oven to 200° Celsius.
Place carrots, EVOO, herbs, pepper and salt in a large non-stick fry oven tray.
Roast for 20 minutes or until starting to colour and there is minimal resistance when placing a knife or fork into the thickest part of the carrot.
Toss honey through the carrots, return to heat for 5minutes.
Remove from heat, dress if desired whilst warm and serve immediately.
Grain Free
Gluten Free
Refined Sugar Free
Dairy Free
Nut free
Paleo Friendly
Ketogenic Friendly
BulletProof Friendly
Vegetarian
Vegan, utilise brown rice syrup rather than honey if desired
Pescatarian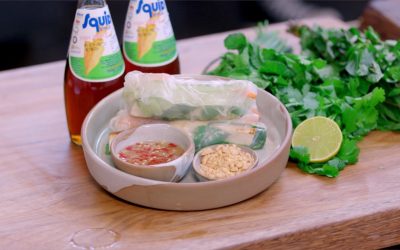 This recipe is brought to you by our friends at Asian InspirationsIngredients:Serves: 8 Prep Time: 10 mins Cook Time: 15 mins Main Ingredients: 1 packet rice paper 150g rice vermicelli noodles 1 bunch coriander 1 bunch Thai basil 1 bunch mint 1 bunch garlic chives 1⁄4...