Honey Soy Leg of Lamb
Khanh Ong
100ml dark soy sauce
50ml kecap manis
60ml honey
250ml boiling water
4 cloves of garlic finely chopped
3 shallots finely chopped
1⁄2 tsp salt
2 kg leg of lamb
Combine all the ingredients besides lamb and mix well.
Cover the lamb in a baking dish with the marinade mixture.
Cover the lamb with foil and place in 180c oven for 1 hour
Take the foil off and bast the lamb with the liquid again and cook for a further 30-40 minutes for medium remember to bast another 2 times.
Set aside to rest for 15 minutes.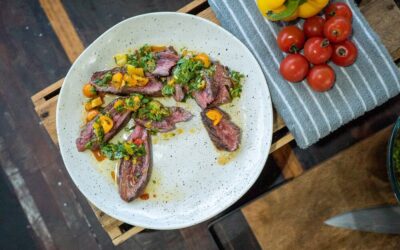 Ingredients: Serves: 4 800g Hanger Steak Sea Salt 1 small yellow pepper, seeds removed, roughly chopped 6 Yellow baby Tomatoes 1 small red chilli, seeds removed ½ tsp dried flaked chillies 2 Garlic cloves, peeled 20g fresh parsley, including any tender stalks 10g each...